On the shore of Jian Lake and the back of Huiji Mountain, Wang Xizhi, master calligrapher from Jin Dynasty conversed delightfully with his friends and completed his masterpiece, which has won eternal praise. Shortly after the spring of 2021, Mr. Qi Yue, General Manager of Carestream Dental Greater China, and Mr. Jin Liang, Co-founder and CEO of SoonSolid Technology, gathered in this historic cultural city, inviting friends worldwide to attend and witness the signing ceremony of the strategic cooperation between Carestream and SoonSolid.
Great truths are always simple. Chair-side 3D printing one-stop solution is of great significance.
In recent years, chair-side digitalization for dental clinics has developed rapidly in China, and intra-oral scanning and 3D printersare becoming indispensable for dentists. Low cost, high efficiency and WYSIWYG (what you see is what you get) have facilitated dentists'daily job. Taking this opportunity, Carestream and SprintRay, the American subsidiary of SoonSolid, create the synergy through complementing resources, aiming at providing dentists with the chair-side digital one-stop solution from hardware to software and concept to service, and providing essential support for dentists to cope with digitalization.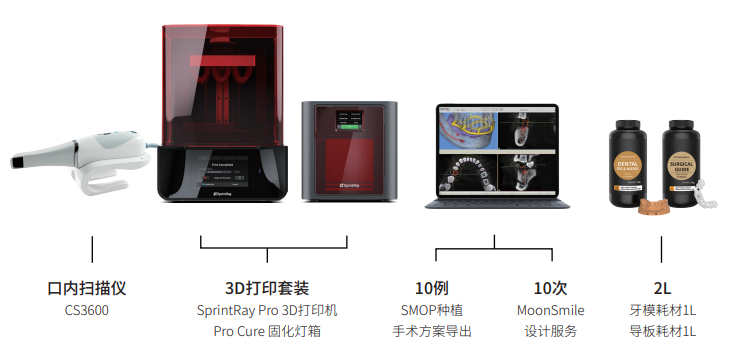 (Chair-side digital 3D printing solution package)
Digitalization means value, efficiency, technology and convenience for dental care. Taking implant guide plate as an example, it takes traditional manufacturing at least 3 days to deliver the plate for clinical use. In an ideal state, the digital implant guide plate can be manufactured and applied clinically within 3 hours by chair-side 3D printing. Therefore,chair-side digital solution has shortened the dental care process, addressed the communication barriers between medicine and technology and made the doctor- patient communication more efficient and intuitive.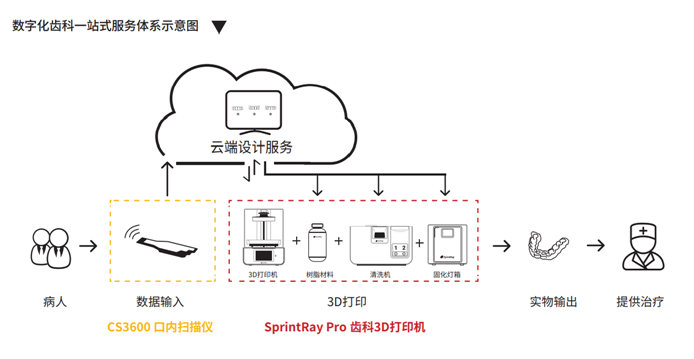 The future is coming. Digital dentistry is embracing explosive development.
At the signing ceremony, Mr. Jin Liang, co-founder and CEO of SoonSolid Technology, commented the current status of digital dentistry:"At present, digital dentistry is on a golden track, undergoing explosive development. SoonSolid and Carestream are in a leading position in their respective fields. This cooperation will enable us to jointly navigate and lead the whole industry."
Mr Qi, General Managerof Carestream, is also full of expectations for the cooperation: "If the products are not effectively integrated, operations will be complicated and troublesome for dentists. We are handling these complicated elementsin the place of dentists, so that dentists' job can be more straight forward and efficient. We provide dentists with full-fledged chair-side digital solution to help them acquire quality clients. We have been looking forward to the cooperation with SoonSolid for a long time, and making things simple through digitalizing is our shared purpose."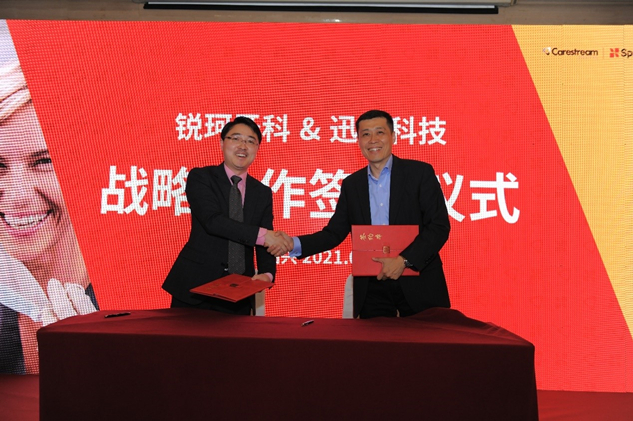 (On the left is Jin Liang, CEO of SoonSolid Technology, and right is Qi Yue, general manager of Carestream Dental Greater China)
"The bushes are thriving by the water, and mountains are covered with sunshine."Signing ceremony attendees took group photo at Jian Lake.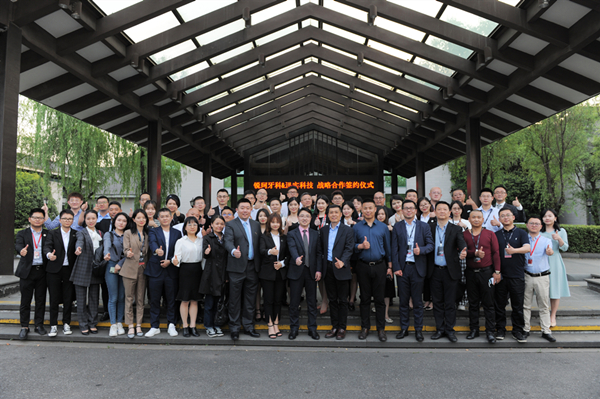 The strategic cooperation between Carestream and SoonSolid has lowered the entry threshold of digital dental clinic, and provided professional and cost-effective chair-side digital solution for clinics. Meanwhile, SoonSolid will keep focusing on R&D and innovation; equip itself with professionalism and down-to-earth attitude. It will fully consider the clinical needs of dentists, and aim at improving patients'dental care experience, boosting China's digital dentistry.