SoonSolid Technology won the third prize of Zhejiang S&T Progress Award
On June 15th, the 2020 Zhejiang Science and Technology Awards Conference was held in the provincial Great Hall of the People. Yuan Jiajun, Secretary of the Provincial Party Committee and Director of the Standing Committee of the Provincial People's Congress, and Zheng Shanjie, Deputy Secretary of the Provincial Party Committee and Governor of Zhejiang Province, attended the meeting.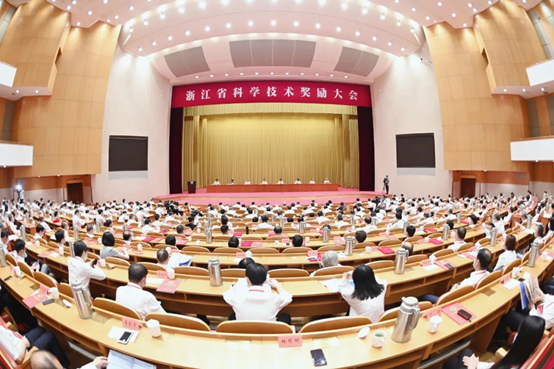 The 2020 Zhejiang S&T awards comprised 1 Zhejiang S&T Award, 299 S&T Innovation Achievements and 1 International Scientific Cooperation Award. Keqiao District won a total of 3 Zhejiang S&T awards, including 1 second prize and 2 third prizes of Zhejiang S&T Progress Award.

The project jointly established by SoonSolid and the Stomatology Hospital, Zhejiang University School of Medicine: developing and commercializing dental 3D printer based on digital light processing technology, won the third prize of Zhejiang S&T Progress Award.
Project introduction
The project "Developing and Commercializing Dental 3D Printer Based on Digital Light Processing Technology" undertaken by Zhejiang SoonSolid Technology Co., Ltd. systematically integrates multi-domain technologies including DLP stereolithography surface forming technology, mechanical engineering, CAD numerical control, projection and photosensitive materials, and comprehensively designs and develops equipment and hardware, printing software, processing techniques, processing methods and processing materials for different application scenarios, and obtains many innovative achievements, leading similar products in the market. The 3D printers developed in this project is mainly adopted in dentistry, printing a series of dental products including porcelain teeth, dental implants, surgical guide plates, dental veneers, invisible orthodontic braces, dental brackets and dental arch. The project has gained 6 invention patents, 1 software copyright and 34 utility model patents. The project not only reduces manufacturing costs, improves production efficiency and quality, but promotes industrial innovation and development. Meanwhile, it has saved medical resources and promoted the development of medical technology.