Zhejiang SoonSolid Technology Co., Ltd. (hereinafter referred to as SoonSolid) recently announced the conclusion of Series C financing with a total amount of several hundred million yuan. This round of financing is led by China Life Healthcare Fund, and jointly invested by Keqiao Industrial Investment Fund, Kunlun Fund, Qianhai FOF, Sinopharm Capital and CASSTAR.With the progress of the financing and roll-out of SprintRay® Pro series, the new generation of professional dental 3D printers, and printing partners, SoonSolid will introduce its successful experience to the whole world and accelerate the digitalizing of dental clinic, providing more convenient, faster and more accurate dental care solutions for practices, dentists and patients.
SoonSolid is a global high-tech conglomerate, which focuses on the R&D of 3D printers and materials and provides various 3D printers and equipment, consumables and digital dental care solutions. Since its establishment, SoonSolid has been favored by local governments and gained much attention and support. Keqiao Industrial Investment Fund is also in the list of investors in this round of financing, which fully reflects the support of local government's industrial-guiding fund for local talents and enterprises. In the process of development, SoonSolid attaches great importance to product R&D and innovation, and has set up an elite team of world-class experts and consultants, including one national "Talent Introduction Plan" expert, three Zhejiang "Talent Introduction Plan" experts, two Shaoxing "Talents at Home and Abroad Plan" experts, academicians of Chinese Academy of Engineering, etc. This has laid a solid foundation for SoonSolid's deployment in global digital dental market.
With digital dental one-stop service, dentists' job will be more focused
Through years of operation in dental market, SprintRay®, a brand under SoonSolid, has established SprintRay Dental Users, the largest dental 3D printing community in America, with more than 4,000 active dentists on the platform. Dentists communicate on digital dental practice and feedback the issues encountered during adoption. SprintRay® designates specific personnel to help dentists solve problems, and collect demands and suggestions on the platform. R&D personnel shall upgrade equipment and develop new products according to these feedbacks.
On the basis of dentist-centric philosophy, SoonSolid has gradually established the one-stop digital dentistry service system. In this system, the cloud platform Dashboard2.0, the design platform Design Service, Internet (SprintRay® website) and equipment (dental 3D printer, Pro Cure, ProWash/Dry) are connected to form the digital dental IoT, which realizes the effective communication among users, machines and objects.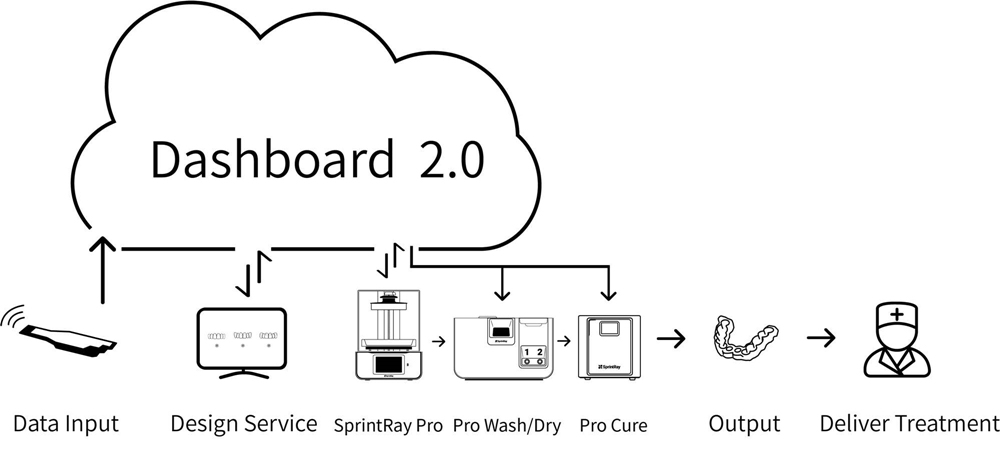 Schematic diagram of dental cloud platform
Dashboard2.0, a cloud platform, is an important and forward-looking product within SoonSolid Digital Dental System. The front-end operation of the whole service system can be conducted by collecting, uploading and distributing the platform data. Most front-end operations except treatment can be performed independently by nurses. In the database, doctors can check the printing history and quantity of consumables, and jump to the procuring website (SprintRay™ website) through clicking on the consumables with high demand to replenish material reserve. Design Service can be simply understood as a dental design platform. This platform is compatible with all intra-oral scanners in the market at present. The clinic staff initiates the design requirements on the platform, and designers assign tasks according to application scenarios and finally complete the design. The clinic only needs to confirm printing on the platform, and the data will be uploaded to the dental 3D printersof clinics. The platform provides chat function, through which clinic staff can communicate with designers in detail.
The front-end equipment is SprintRay® Pro Dental 3D printer, which has occupied 50% of the market in America. Based on the needs of users, in September 2020, SoonSolid launched Pro55 ultra-high precision printer, which is mainly used for clinical treatments including temporary crown, permanent crown, restoration, etc. Combining with Pro, digital dental treatment has become full-fledged. Immediately after its roll-out, Pro55was widely applauded by dentists. In the post-processing of printing, in addition to the star product Pro Cure curing light box, SoonSolid prioritized design and R&D during COVID-19based on the actual needs of customers, and launched Pro Wash/Dry in September to further shorten the post-processing time and reduce the time cost for users. The front-end equipment can be operated solely by nurses, thus dentists can concentrate on providing dental care services for patients.

SprintRay® product family
Digital dentistry one-stop service system has facilitated the storage and use of dentists' digital dental care data, and cut off trivial works apart from treatment, making dentists concentrate on their professions and providing better treatment for patients. This system not only embodies the people-oriented philosophy of "3D printing enables change in people's lives", but reflects the strength of SoonSolid to deploy in global digital dental market.
Deployment in global digital dental market, creating 3D printing ecosystem
With its success in dental market abroad, the company's dental business in China has also made great progress. In just one year, multiple Chinese dental hospitals and clinics have adopted SoonSolid dental services. In the future, SoonSolid will continue to promote digital dentistry in China's dental industry, boost its market share in China's market, and accelerate its deployment in global digital dentistry.
Jin Liang, founder and general manager of SoonSolid,said:"Digital dentistry is a golden track for 3D printing applications, and SoonSolid will, as always, root itself in dental applications, and do our best. The successful conclusion of financing not only reflects the recognition from capital market, but illustrates the value of our undertaking. We will intensify R&D, enhance brand influence, and promote global digital dentistry through constant innovation. On dentistry, we are serious!"
In the future, SoonSolid will prioritize medical 3D printing applications and digital solutions, and vigorously promote the concept of 3D+. Under the backdrop of Industry 4.0 and Made in China 2025, SoonSolid is committed to making 3D printing technology a disrupter of manufacturing standards.
Ms. Zhang Leidi, head of China Life Private Equity Investment Company,said: Digital technology has disrupted the traditional dental treatment process, greatly saved the treatment time and cost, improved the patient's service experience, and profoundly changed the entire industry. SoonSolid focuses on dental 3D printing, boasts a professional, down-to-earth and efficient international start-up team, and owns strong tech capability and rich experience in software, hardware, materials and design.Its products have been widely recognized by the industry. In recent years, the company's performance has been surging, ranking as a global leader in dental 3D printing. China Life Healthcare Fund hopes to join hands with SoonSolid to boost the digital transformation, upgrading and innovative development of dentistry.
Ms. Zou Min, partner of Sinopharm Capital, said: First of all, we congratulate SoonSolid on concluding this round of financing; SoonSolid Technology has pooled a group of outstanding world-class talents in 3D printing. Through constant exploration, it has made breakthrough in dental commercialization, and has been widely recognized by dental clinics and doctors in America. In China, with the popularization of intra-oral scanning and the development of diversified oral digital applications, the adoption of hardware, software and services related to 3D printing will be more extensive and frequent; In the future, we will take advantage of Sinopharm Dental's high-quality oral channels and services nationwide, providing Chinese dental clinics and doctors with world-class 3D printing products and services and boosting SoonSolid's development in the domestic market.
It is reported that on October 23, China Life has signed the Agreement on China Life Yangtze River Delta Investment Project with SoonSolid, Jiangsu Communications Holding, AVIC International Leasing, China Eastern Airlines Group, Shanghai Land and Ningbo Urban Construction Investment Holding, building strategic cooperation. The signing between China Life and SoonSolid aims to jointly promote the further development of domestic healthcare industry.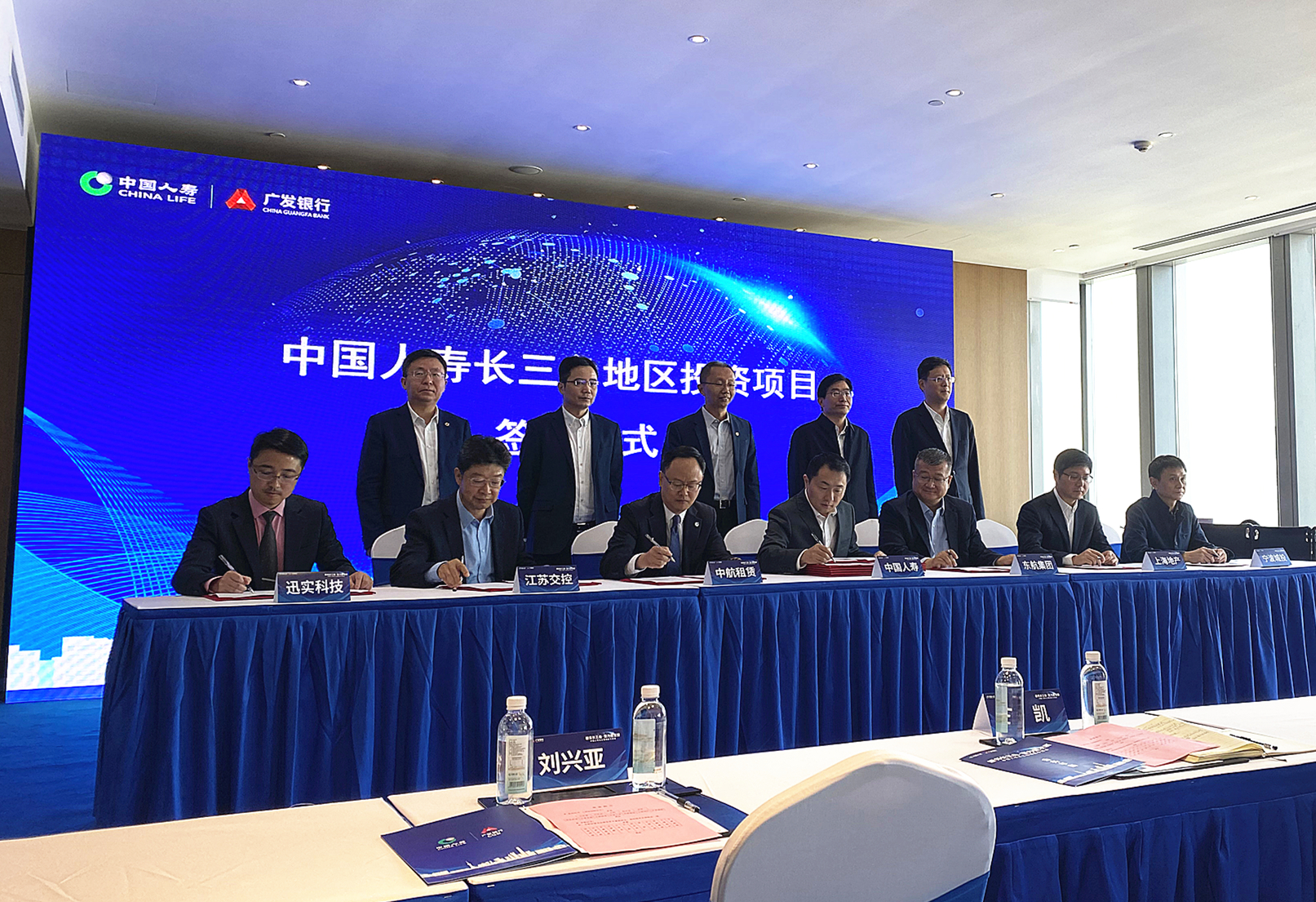 About China Life Private Equity
China Life Private Equity Investment Co., Ltd., established in June 2016, is a specialized private equity investment platform under China Life. Adhering to the investment philosophy of "investing in the future, innovation and value", the company gives full play to the advantage of insurance funds and its social responsibility, serves the national strategy, supports the real economy and demonstrates China Life's sense of purpose. China Life Healthcare Fund, initiated by China Life Private Equity in 2016, is a flagship investment fund for healthcare industry in China. Since its establishment, China Life Healthcare Fund has invested extensively in life sciences, healthcare technology, healthcare services, digital healthcare, etc.
About Sinopharm Capital
Sinopharm Capital Management Co., Ltd. is a professional private equity investment institution established by Sinopharm Group, which focuses on healthcare industry and boasts an in-depth understanding of the development, governance and capital operation of the industry. Sinopharm Capital wishes to discover, explore, integrate and realize the value of China's healthcare industry, elevate the development and management of the whole industry by highlighting innovative and growth-oriented enterprises, and provide resources which match the development strategy of target enterprises, and deliver better and cheaper health services for Chinese people.